Sorry for not posting lately.
First, I had serious computer problems. And lately I have been busy getting things ready to take to the Fancy Flea on April 6th, 2013.
This will be the 4th time I have set up at the Fancy Flea, a vintage home and garden market, held twice a year in the beautiful, historic city of Lakeland, Florida.
This has been voted one of the top 10 flea markets in the country.
I have kind of learned from experience what to take and what not to take.
When I found this industrial cabinet a couple of weeks ago, I knew it was a winner.
After I bought this cabinet, I carried it around in my car for a few days.
It is made out of steel and is very heavy.
I had to figure out exactly what I was going to do with it.
.

This is really a wall cabinet, but because I knew I would be selling it at a street fair, I had Mr. Shabby Mr. Crabby put castors on it.
The castors cost around $9.00 at Lowe's.
This will make it easier to move around and the castors can be easily removed if the new owner wants to hang it on a wall.
Believe it or not, I spent a lot of time on this cabinet.
First, I cleaned it.
One of the doors had a broken glass. The cost to replace that was around $12.00.
The wooden shelves fit too tight so we had to trim them down just a bit.
The wooden shelves had never been painted, so I painted them Heirloom white, then wiped on a glaze.
Then I distressed them.
I didn't want them to look new.
Then I waxed the outside.
The rusty, crusty patina on this cabinet is wonderful.
Mr. Shabby still wonders why it didn't go in a dumpster somewhere.
Can you believe that???
Very industrial.
Very chic.
Very fabulous.
I also found this wonderful little wall shelf and gave it an updated look.
On this piece, I just painted it using Heirloom white, then wiped it with a brown glaze, then I distressed it a little.
I really love this piece.
This will be going to the Fancy Flea, too.

Linking to:

Wow Us Wednesdays

and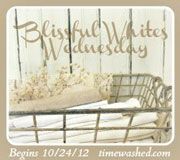 and

and